We are on week 2 of our Dominican Republic vacation, and the last week of it as well.  I am really enjoying the friendliness of the local people here. People here seem so much more laid back than in Vancouver, not sure why but they are very relaxed and care free.
I just took my daughter for our usual afternoon baby stroller/walk so she can fall asleep and have her afternoon nap. I sneak away after she falls asleep in the stroller, then I go over to the next hotel (Riu Macao) to use their wireless Internet. It's my afternoon ritual here in the Dominican.
Me and wifey are walking quite a bit each day because we both hate just sitting there all damn day (gets kinda boring tanning for 8 hrs). This morning we walked to the "stores" which look like basic structures with no electricity, no flooring (unless sand is considered a floor) , no doors. My mother in law suggested we walk to the stores, yeah some stores ha ha. In any case it's always interesting to other cultures around the world. Things here are much more simple than Vancouver and for the most part I consider it a GOOD thing.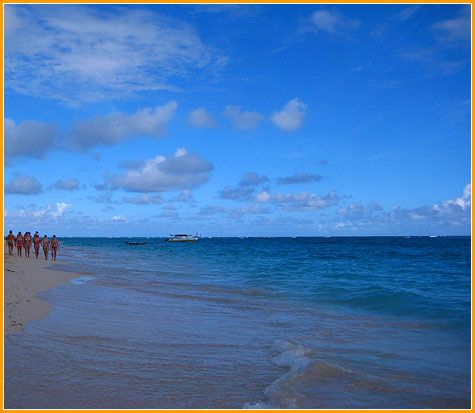 walking to "the stores"
The Dominican Republic version of MetroTown Mall…
various items to buy such as, drums, statues, pottery
This is called the "John Wayne" store, not sure why but it was funny…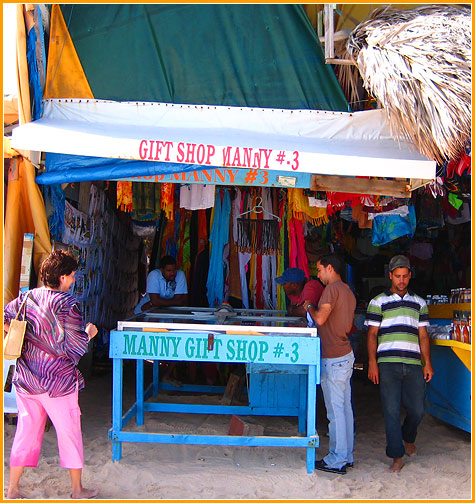 do you like the floors here? beats laminate flooring anyday…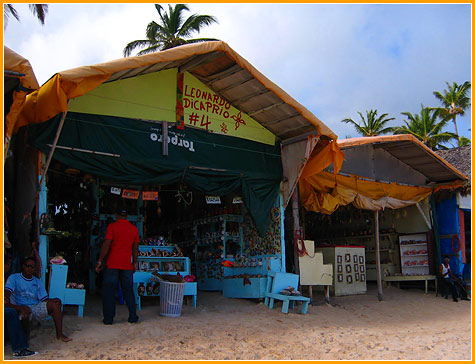 The "Leonardo Di Caprio" store, umm no comment..
The outdoor mall of Punta Cana…
walking along the beach back from "the stores"…
We checked out all the hotels on the strip and surprising our hotel is actually not as nice as others around here, however those other hotels cost much more to stay at than ours (Riu Taino). The food is the exact same at all the hotels (we checked) on the strip, the only difference is the visual appeal. Our hotel is by no means bad but when you compare to others such as Rui Palace then you can see the difference. I snapped a few photos but we went at night and it's hard to get how amazing this hotel is in the dark. It really does look like some type of palace.
outdoor bar at Riu Palace
outdoor bar area Riu Palace in Punta Cana
inside bar at Riu Palace hotel in the Dominican Republic
outdoor waterfall
Matteo with Mamma at the Riu Palace hotel….
night shot of pool at our hotel Riu Taino…
local Dominican man making hats & bowls out of palm leaves, very neat…
dude selling cigars, he looks pretty mad at me (yikes..)
my little showoff
And back I go to the pool to meet up with the kids and wifey, maybe grab a Pina Colada along the way.