My Specific Goals For 2010
Being that it is January, I need to get my house (head) in order. I've been feeling a little unfocused this past week, so I figured it was about time to write down my specific goals for 2010.
For those of you that know me, realize that I am a man of sticking to my promises. If I say I'm going to do something then it will be done. I like being honest especially with myself.  That being said it's time to do my goals, why? As I mentioned tons of times before I write down my goals here so I feel like I am accountable to anyone reading my blog. I  like the no B.S. approach is has worked for me so far, so I am going to continue.
Before I post my exact goals for 2010. I want you to read what my real estate guru Ozzie Jurock  sent me my by email:
"People don't do what we expect, they do what we inspect with respect. New Year's resolution type goals don't work, because we have no one to inspect us. Your goals should be specific, quantifiable and measurable. Accountability is the key. For instance, what exactly does it mean when we say: "I will buy some real estate?" Make it specific: "I will buy an investment condo that cash flows by May 1, 2010." That's specific and measurable. And…put it in writing … and have someone inspect you. It works!"
Ozzie Jurock is awesome, through his newsletter that I subscribe to, he has guided me to buying cash flow properties in Vancouver, Prince George, Winnipeg (mistake) and now Las Vegas! He doesn't know that he has even helped me, but one of these days I will chat with him at the real estate seminars that I frequent here in Vancouver and tell how much of an inspiration he is.
First off I want to lose about five pounds. It's not very much, because I don't really need to drop much weight at all. I am doing the exercise bike every day for 30 minutes and it's working out great. I sit on my ass and watch TV while I am on the bike, so it doesn't even feel like a workout really.
Real estate! Well what can I say about this? My major goal is to have $20,000 in invest income every month coming through real estate. I am just under half way there, not bad I know. This year I plan on buying 5 more condos, mostly in Las Vegas I think. The end date for this to happen will be November 14, 2010. Last years I said I would buy 3 condos and bought 4, 3 in Vancouver and one in Las Vegas.
Online income – Working online has enabled me to buy all the real estate I have, it has changed my life forever, no going back now. I blogged about how I made the $7,000 profit per day goal last month, well it has come down from that level. Honestly it's pretty tough to keep the momentum going at $7,000 per day for months on end. That being said, I think a new revised goal of $2,000 U.S. per day in profit should be attainable by February 1,2010. I don't know exactly how I'm going to do this, but the magic of writing down your goals, seems to get me super focused on hitting the bench mark I have set for myself. In this case $2,000 profit U.S per day is my new goal. I want this to be consistent, meaning it will last for months on end. I know I can do and I will do it, let's watch it happen!
Remember the law of attraction does work, I am living proof of it.
front yard sunsrise, taken on January 7, 2010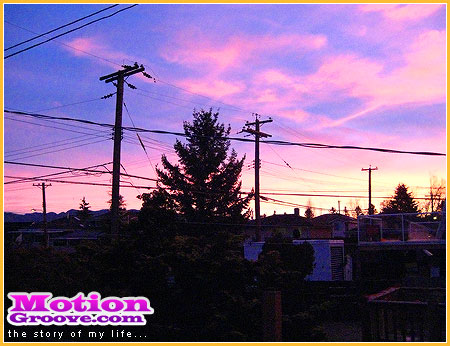 back yard sunsrise, taken on January 7, 2010
CV |
affiliate marketing
,
daily life
,
goals
,
las vegas
,
law of attraction
,
photos
,
real estate
,
vancouver
,
weight loss
|
01 9th, 2010
|
No Comments »