Anti-Trump Protests Are Professional Protestors Paid $18 Hr To Protest (PROOF)

Anti Trump Protests Are From Professional Protestors Paid $18 Hr To Protest!
I was hearing about the various anti Trump protest and new reports discussing that people were getting paid between $15 and $18 an hour to protest Trump. These anti Trump protests are not Grassroots there are funded by organizations such Open Society Foundations and Moveon.org from George Soros. He seems to be funding the anti Trump rallies Nationwide in the United States. A quick Google search showed that on Craigslist there are various ads looking for people to protest Trump these include students, women, and minorities. This is why you see anti Trump protests, they are literally being paid to be at those locations to protest and possibly start riots. The number one enemy and person behind all of this is George Soros. Please watch this video and share it with your friends.
1st Craigslist Anti Trump ad looking for people: http://seattle.craigslist.org/see/npo/5871826427.html
2nd Craigslist Anti Trump ad searching to pay people $1500 week to STOP TRUMP: http://philadelphia.craigslist.org/npo/5862770802.html
CV |
Politics
|
11 13th, 2016
|
No Comments »
They Thought Hillary Clinton Was A Sure Thing, Publishing "madam president" magazines
Everyone thought they had it ll figured out but they didn't see the Trump rallies with 50,000 people compared to Clinton rallies with under 1000. Not hard to see who was going to win. But the shit storm of lies from the media had everyone fooled. Hell, the media even fooled themselves, those fucking idiots. But they are paying the price now, viewership is gone, all that ad revenue will dry up and these "journalists" will lose their jobs. They did it to themselves, if they were HONEST they could have still had readers but they went in 100% with a corrupt criminal Hillary. Not sure how they couldn't see it but they didn't . This was visible a mile away… Newsweek recalls 125,000 copies of its souvenir Madam President issue
c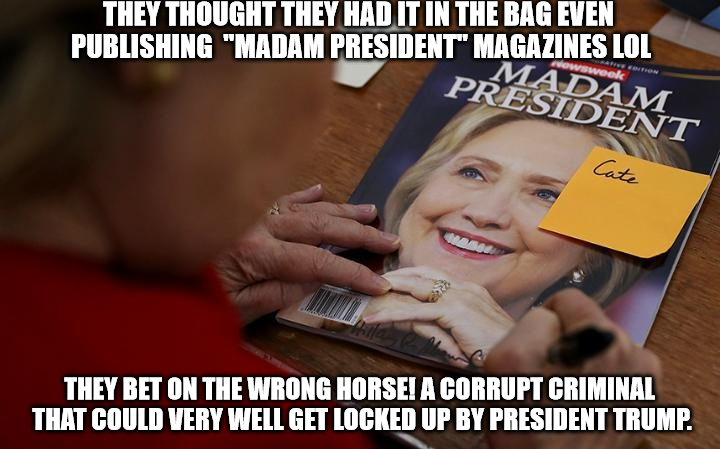 CV |
Politics
|
11 12th, 2016
|
No Comments »
The Mainstream Media Lied This Whole Election Trying To Get Hillary Clinton Elected
The corrupted media lied the whole election, biased towards getting a corrupt criminal Hillary Clinton elected to the White House. And they were shocked when Trump won? The indicators of him winning were there ALL ALONG. 15,000 people filled stadiums for Trump while Hillary had 500 people. It doesn't take a rocket scientist to understand who had the momentum. The problem is the media is biased and had an agenda to get Hillary by any means necessary elected all along, even if they had to lie which they did over and over and over. It backfired in a spectacular way. Now no one trust the media and their ratings are dropping like a rock! They did it to themselves and I for one will never trust these back stabbers, paid off shills and liars every again. Shame on you CNN, CBS, CNBC, NBC, New York Times and many others.

CV |
Politics
|
11 12th, 2016
|
No Comments »